For years I was using paper planner from a local company and it did me a great service. As of 2011 I have switched to Google Calendar. Then I realized I am a "pen and paper" guy, so despite all pros of electronic web based calendar I am going back to paper.
My criteria for ideal planner:
A5 size with plastic softcover
This is size that is good to carry aroud, fits to any bag, but it's not too small.
With smaller size planner there is not enough space for writing.
Hard cover tends to be heavier and inflexible when you need it sometimes.
Whole year on one page
This page I use to put together my "happiness factor".
I evaluate every day and mark it on this page either green (great day), orange (ok day) or red (bad day). One look at this page will then give me clear sense how my year is going.
You can bet I am hoping for very green 2014!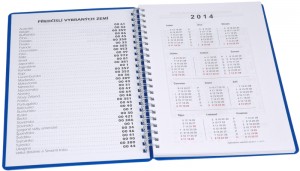 Monthly planning
To monthly tables I mark all travels / vacation and time with family.
On top of my dates I also put there dates for my wife.
This helps us with planning activities together and our own.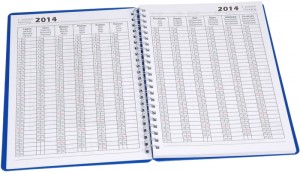 Week on two page format vertically
Here I only put meetings, reminders and calls.
To Do list must be on separate sheet of paper.
I prefer vertical format so I can write things down to space with certain hour. Weekly format is important as you need to see your whole week in one look. If you use daily you can easily get burried in small things as you can only see one day of your life. Longer than week period is too difficult to predict and control.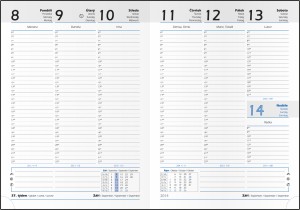 Notes pages
This is handy for taking notes and having it with you.
For jotting down occasional ideas or anything else you need to remember.
Everything else is bonus. Be it pocket where you can put some additional papers, bookmark ribbon or elastic closure.
Most of all, once you find something that fits your needs stick to it.
I guess, this would be same for everything in life.
Related posts: To Do List; Goals