Building your own business is not easy. That is indisputable. But it doesn't have to be gruesome task that would drive you insane. Here is my advice on how to build your own business and stay sane.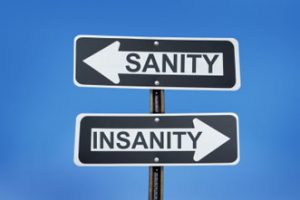 Hire great people and empower them 
One of big mistakes I made was to do everything by myself. That led to 100 hour work weeks. And of course to many inefficiencies and at the end my burnout. At first I advise to hire "helpers". People that will help you with routine, administration and other low value added tasks. Don't forget you must empower your people. If you don't than it will not help you. You will spend time controlling, re-doing and instructing. Then you can fully focus on building business. Bit later, either some of your helpers will grow to "higher" position or you will hire some senior people.
Do what is most important
Setting priorities is always a tricky task for both entrepreneurs and employees alike. After reading many books, articles and blogs on personal productivity and even conducting many workshops on the topic I arrived to simple procedure.
For every day I only have 3 priorities that I write down day the day before. Between 3 priorities I decide based on size of money we can make or it could cost us. Amount of possible costs or revenues gives me clarity on value of the task.
Be patient 
One of the hard lessons I learned at the beginning was that everything takes much longer than expected. Building a website, construction or loan negotiation you name it, it always! takes longer than expected. You should do everything you can to make it on time and in quality required but be also ready that it will take much longer.
When we started e-shop I was checking for new orders every five minutes. This doesn't help anything. It takes time to build traffic, orders, mailing list and customer base.
Keep your life 
Being able to work hard is not about how much you can work. It is more about how much recovery you can build in into your schedule. If you have enough compensation for your hard work you will not only get more done but quality of your work will go up significantly.
Your hobby, meeting and spending time with friends – anything that will get your mind and body off the daily business will help you recover and recharge tremendously.
Finding opportunities on the market, having idea that you can build into successful business is one of the most fulfilling and rewarding thing you can experience in life.
But don't take it too seriously. Enjoy it, learn as much as you can and have fun.
Related posts: Empowerment; Should I Leave My Job To Start My Own Business?